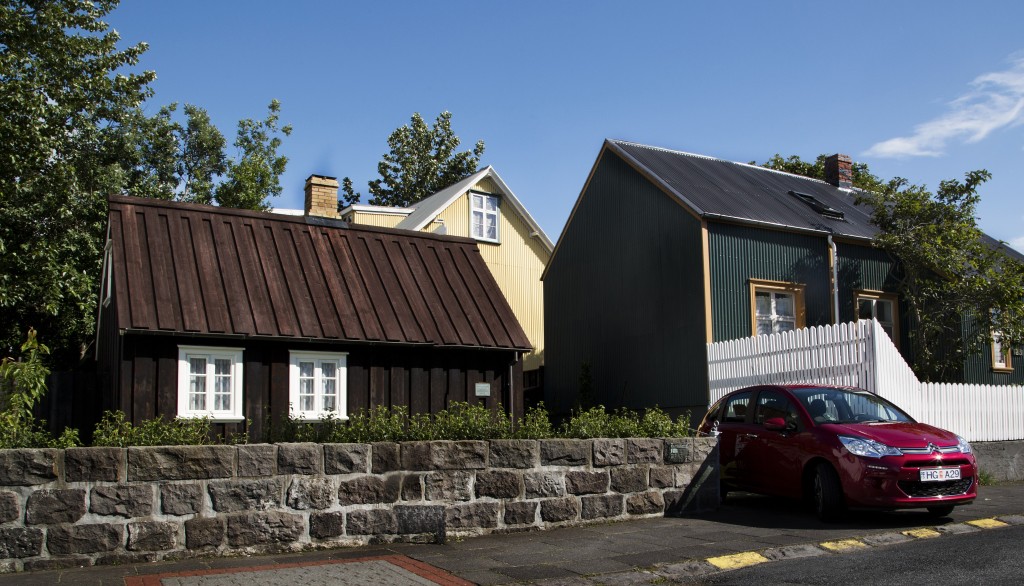 Vakta is a small Villa in a small neighbourhood of one of the smallest capital cities in the world. It is filled with Icelandic design and Icelandic history and it is an incomparable opportunity to get to know a side of Reykjavik usually kept secret by its inhabitants. Vakta spans two centuries and is full of history. It was brought back to life from an unremarkable storage room to its former beauty, using original materials and building techniques. Its owners have designed it to reflect the essence of living in Iceland. Vakta is a window to a simpler time, where you can relax and simply experience the beauty of Reykjavik and all its rich history.
A 2019 Citroen C3, with automatic transmission, is included in the rent, guests can use it to take trips to the country or zipping around town.
Have a look at our Tours page for suggested trips that you can enjoy with our car.
The ground floor is 53 m2 and consists of a living room/kitchen and bathroom with shower. The kitchen is fully equipped with new appliances and all necessary utensils and dinnerware.
The house sleeps 4 people and is not suitable for children under 5 years.
The sleeping loft is 45m2, floor to ceiling height is 185 cm (6 feet). It has a full size bed, sofa-bed and mattress that all have quality mattresses. Duvets are high quality goose down and damask linen.
The property is surrounded with a beautiful garden including parking and a small closed of garden for barbecuing and dining outside.
Vakta is committed to follow strict ecological guidelines to ensure sustainability by using environmentally friendly products, from the soaps to the towels.
The Watchman's House
The title 'watchman' was held by someone who watched over the town of Reykjavik. He had to stay awake and alert during the night and was a sort of fireman as well. He walked around town with a studded club and an hourglass, rang the church's bell and attended to anything and everything that caught his watchful eye. Vakta is where the town's watchman lived. The house is thought to have originally been part of a turf farm called Grjoti, which has now disappeared. However, the present neighbourhood has kept the name Grjotaþorpid. There, one can find the oldest buildings in Reykjavik and some of the most picturesque streets, houses, gardens and alleys in all of Iceland. Grjotaþorpid transports you to an earlier and almost unchanged time in Reykjavik's millennial story.